⚾MLB Roundtable: Biggest early-season questions👀
TheGx sports betting forum copy and paste machines reporting:
theScore's MLB editors Michael Bradburn, Josh Goldberg, Simon Sharkey-Gotlieb, and Brandon Wile answer some of the biggest questions a little over three weeks into the 2023 season.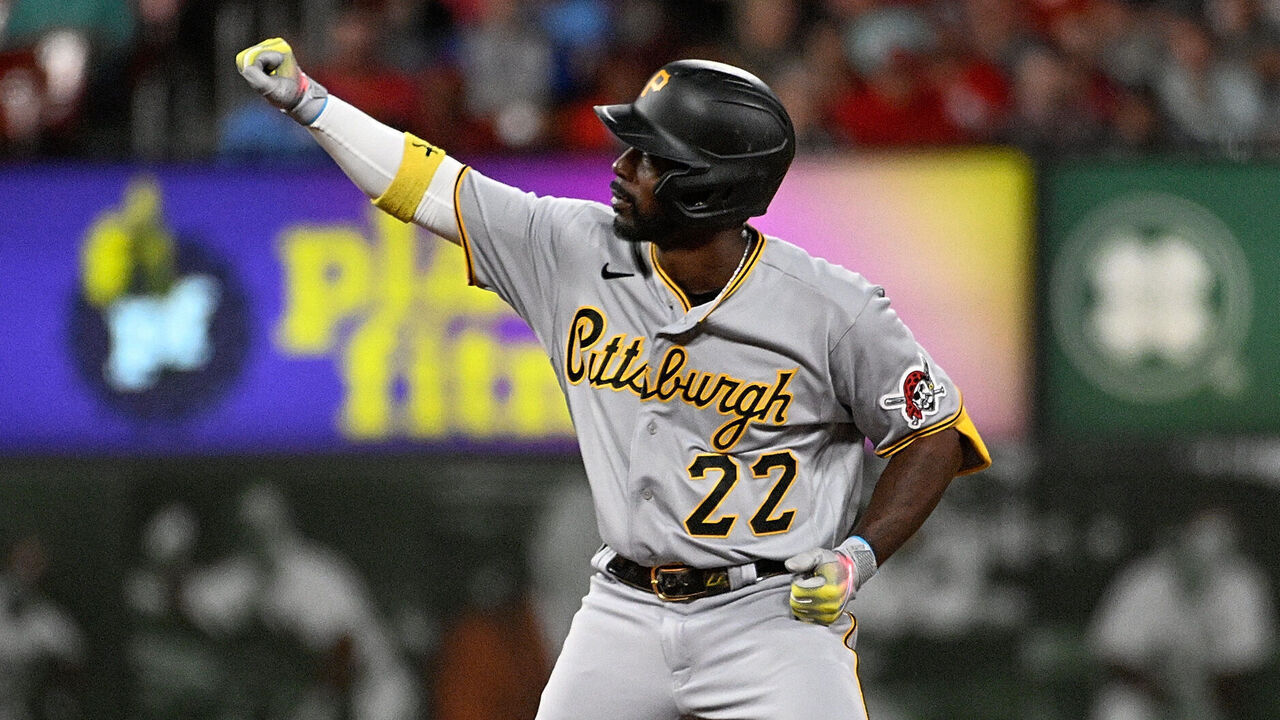 Joe Puetz / Getty Images Sport / Getty
Which team has been the most surprising?​
Pittsburgh Pirates:
The Pirates have been excellent through the first few weeks of the season despite losing uber-talented shortstop Oneil Cruz to a fractured ankle. General manager Ben Cherington prioritized veteran additions in the offseason, and it appears that strategy was sound. Andrew McCutchen has been a revelation in his return to Pittsburgh, posting his best offensive numbers in years. The rotation is also off to a strong start with right-handers Johan Oviedo, Mitch Keller, and Roansy Contreras working toward becoming pillars to build around. It's still very early, but Pirates fans have something to cheer about for the first time in a long time. The team already has 16 wins; it took Pittsburgh until May 18 to reach that number in 2022.
- Goldberg
Texas Rangers:
It's not so much that the Rangers are on top of the AL West after three-plus weeks of play - it's
how
they've done it. Despite losing Corey Seager to a hamstring injury, the Rangers have chugged along nicely, sporting a plus-60 run differential that ranks second in the AL. Marcus Semien, a notoriously slow starter, is having a really good April and looking more like his old self, while catcher Jonah Heim has also emerged as a legitimate offensive weapon. On the pitching side, Jacob deGrom's been pretty much everything the team hoped, the rest of the rotation has done its part with some solid outings, and the bullpen has emerged as a dominant weapon for manager Bruce Bochy. The AL West remains a tight division, and at some point, the Astros, Mariners, and maybe even the Angels will make their moves. But for now, Texas is proving that it won't be knocked down without a fight. -
Sharkey-Gotlieb
Tampa Bay Rays:
The Rays are always pesky, but if anyone pegged them as the best team in MLB, we'll need to see the receipts. Most projection models had the Rays finishing third in a very competitive AL East. Instead, they're walking over opponents, still unbeaten at home, and seem poised to battle for a first-round bye in the postseason. Has their schedule been easy? Undoubtedly. But, as the saying goes, make hay while the sun is shining, and Tampa has certainly stockpiled quite a few bales. What's really surprising here, though, is that the offense is really clicking. The Rays were one of the best teams at preventing runs last year, both by pitching and defense, but the bats really held them back from being great, as they posted a 101 wRC+, good for 15th in the league. This year, the lineup is miles ahead of the competition with a collective 153 wRC+ in the early going. That's definitely not sustainable, but if Wander Franco, Brandon Lowe, Josh Lowe, and Randy Arozarena continue making strides, the Rays could be a legitimate juggernaut.
- Bradburn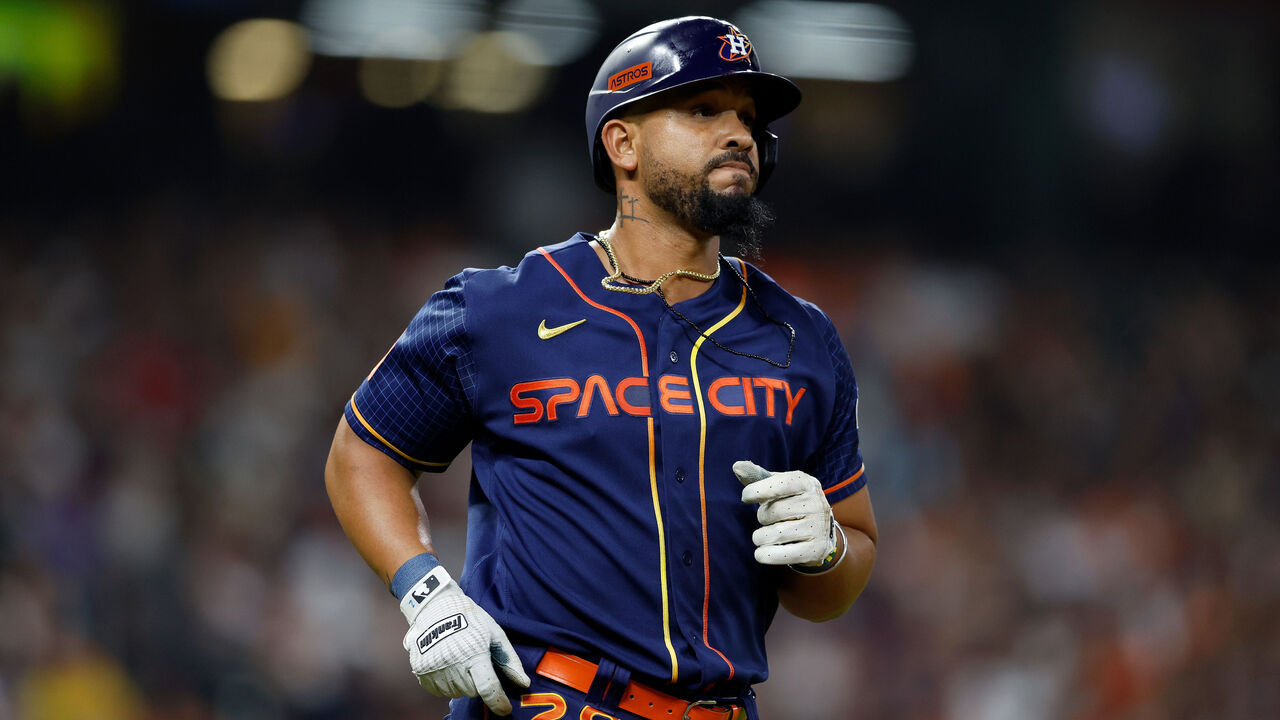 Tim Warner / Getty Images Sport / Getty
Which offseason acquisition has been most disappointing?​
Note: Players yet to play this season due to injury were not considered.
Jose Abreu:
The Astros sorely needed improved production at first base after getting very little from the position last season. The signing of Abreu to a three-year contract was seen as a fairly high-floor move, but Abreu's power has seemingly evaporated. The veteran's average exit velocity and hard-hit % have plummeted to the 25th and 41st percentiles, respectively, from 93rd and 97th last season. Abreu is still looking for his first home run of 2023, and the Astros are hoping he can rediscover that element of his game with second baseman Jose Altuve not expected back from injury for at least another month.
- Goldberg
Tyler Anderson:
It seemed like a wise, relatively low-risk move for the Angels to add a good, mid-rotation arm like Anderson on a three-year, $39-million contract. Instead, everything that made the southpaw reliable with the Dodgers seems to have disappeared in the early going. The 33-year-old has never been a high strikeout guy, but, last season in Chavez Ravine, he optimized his offerings by limiting walks and hard contact. Well, he's doing neither of those things with the Halos, already issuing eight walks and five homers through 20 innings. And, while he didn't add to either of those tallies in his most recent outing, he still got knocked around and now has a 7.20 ERA through four starts.
- Bradburn
Andrew Benintendi:
When the White Sox signed Benintendi to the richest free-agent contract in franchise history, they were probably expecting more production. Through 19 games, he's hitting .282/.333/.346 with no home runs. While his average and on-base percentage are respectable, the absence of any power is a concern. Now, Benintendi is not a bopper - he only hit five home runs in 126 games last season - but he's not hitting the ball hard at all this year. His average exit velocity sits at a career-worst 84.9 mph, while his hard-hit percentage is just 17.7%. He ranks in the first percentile in barrel % (worst in MLB) and sixth percentile in average exit velocity. Benintendi has hit just 11 balls harder than 95 mph this season, which ranks in a tie for 235th in the majors.
- Wile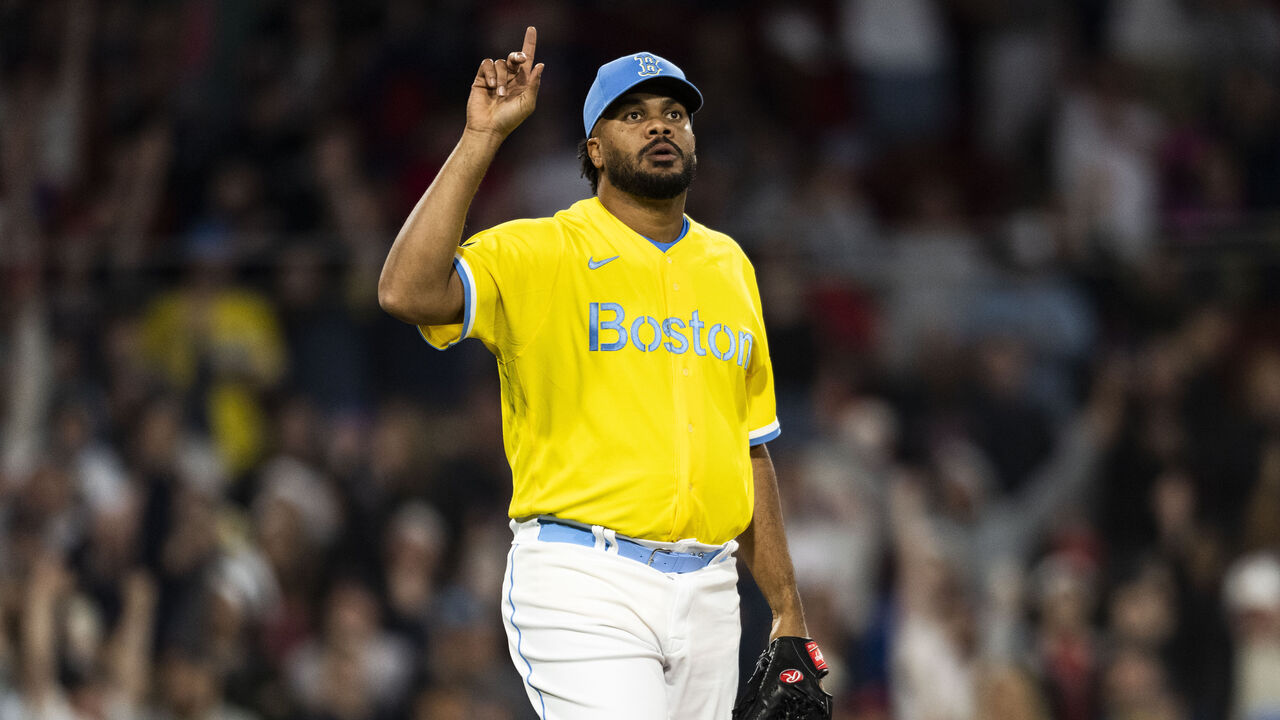 Billie Weiss/Boston Red Sox / Getty Images Sport / Getty
Which offseason acquisition has been most impressive?​
Kenley Jansen:
The Red Sox bringing in an established closer has made a world of difference at the back end of the 'pen. Jansen has been exceptional through seven appearances, tossing seven shutout innings. He's allowed just four hits and a pair of walks while striking out 11 of the 27 (41%) batters he's faced. Jansen's cutter remains elite, with batters slashing .143/.110/.143 off of it. No Red Sox pitcher had more than eight saves last season; Jansen already has five. Not only has he helped secure wins, but he's also been able to take pressure off the rest of the relievers and create more structure in the bullpen.
- Wile
Sean Murphy:
The Braves' new catcher has been a world-beater, and when you factor in that he's filled in behind the plate more than expected due to Travis d'Arnaud's concussion, it's even more impressive. Murphy ranks 100th percentile in expected wOBA and expected slugging percentage, 99th percentile in barrel rate, and, to top it off, 97th percentile in walk rate. He's patient in hunting for his pitch and, when he gets it, he's hitting it on the screws. Entering the season with an elite tandem behind the dish was a great strategy because it ensures regular days off at one of the most demanding positions. But Murphy is hitting like the league's best designated hitters (.250/.416/.617 with five home runs in 18 games) while managing a lot of catching work and maintaining elite framing numbers for a pitching staff that's all new to him. - Bradburn
Dansby Swanson:
The Cubs signed Swanson to a seven-year, $177-million contract with the hope that he would come in and provide strong leadership, elite defense, and some offensive contributions. The fit has been perfect. Swanson is walking at the best clip of his career and is still getting the job done defensively, ranking in the 89th percentile in outs above average. The Cubs have already established an identity as a team that battles every game on both sides of the ball with Swanson emerging as a leader whom manager David Ross can build around.
- Goldberg
Luis Arraez:
A trade to Miami didn't slow down last year's AL batting champion. In fact, the combination of a spacious loanDepot Park and the banning of shifts might have combined to make Arraez's bat even more lethal. The 26-year-old leads the majors in both average and OBP as part of an eye-popping .444/.506/.583 slash line that's finally given the Marlins the offensive spark they've been missing. An old-school contact hitter who makes up for his lack of power with elite bat-on-ball skills, Arraez is hitting over .400 against fastballs, breaking balls, and off-speed pitches. He's still incredibly hard to strike out, with just four Ks in 81 plate appearances. While the cost to get him (Pablo Lopez) was high, Arraez was exactly what the Marlins needed. -
Sharkey-Gotlieb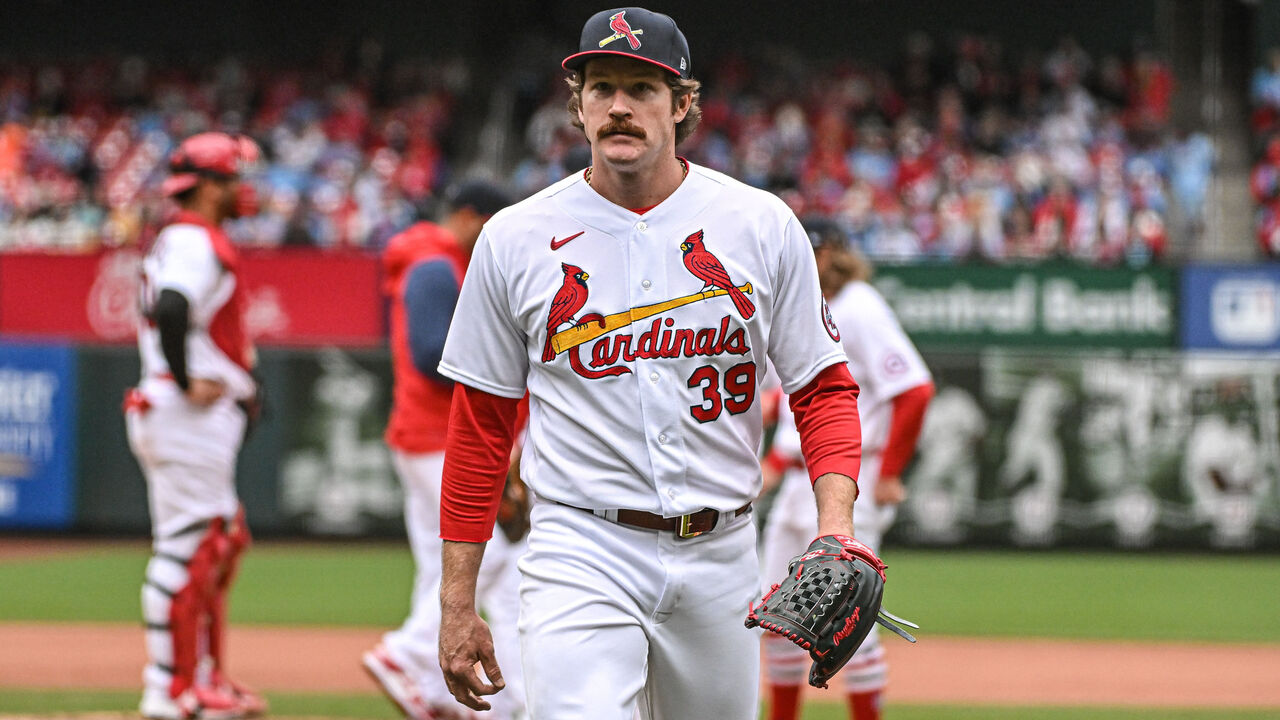 Icon Sportswire / Icon Sportswire / Getty
Which team's slow start is most concerning?​
St. Louis Cardinals:
Even in the weaker NL Central, the Cardinals' early struggles - particularly on the pitching side - are surely making some folks in St. Louis a tad worried. The starting pitching has been awful, sporting a 5.57 ERA that ranks 26th in the league, and a .299 opponent batting average that's better than only the bottom-feeding A's and Reds. Only one Cardinals starter, Jack Flaherty, has an ERA below four - and even he owns a 5.16 FIP. As a result, the Cardinals own a negative run differential despite the offense largely humming along nicely, and they're barely hanging on to fourth place in the Central. With the Cubs, Brewers, and Pirates off to hot starts, the Cardinals need to get their pitching in order soon. -
Sharkey-Gotlieb
Philadelphia Phillies:
The reigning NL pennant winners are on a bit of a heater, winning three straight. Unfortunately, that still makes them a sub-.500 team because of the early hole they dug themselves. Yes, they're dealing with the loss of Rhys Hoskins, and Bryce Harper won't be back for a while. But the most concerning thing so far is how poorly the co-aces are performing. Zack Wheeler owns a 4.73 ERA, while Aaron Nola isn't getting strikeouts and has a horrendous 5.40 ERA. The saving grace for Wheeler is that the underlying numbers indicate he should trend in the right direction shortly, boasting a 2.64 FIP with 34 strikeouts and 10 walks over 26 2/3 innings. The Phillies are a good team, there's little doubt about that. But Wheeler and Nola played integral roles in carrying them to the World Series last year, and the pair will have to be the best versions of themselves if the Phillies plan on hanging around the Mets and Braves this time around.
- Bradburn
Seattle Mariners:
The Mariners wanted to add more firepower to the lineup in the offseason. General manager Jerry DiPoto acquired two-time Silver Slugger Teoscar Hernandez from the Blue Jays to provide his club with a proven power hitter who could help young star Julio Rodriguez anchor the lineup. Hernandez has four home runs, but Seattle is still struggling to produce at the plate, ranking 17th in the league in runs scored, 20th in home runs, and 21st in OPS. The pitching continues to be excellent, but the Mariners desperately need the offense to start pulling its weight if they want to avoid following up last season's playoff breakthrough with a disappointing 2023.
- Goldberg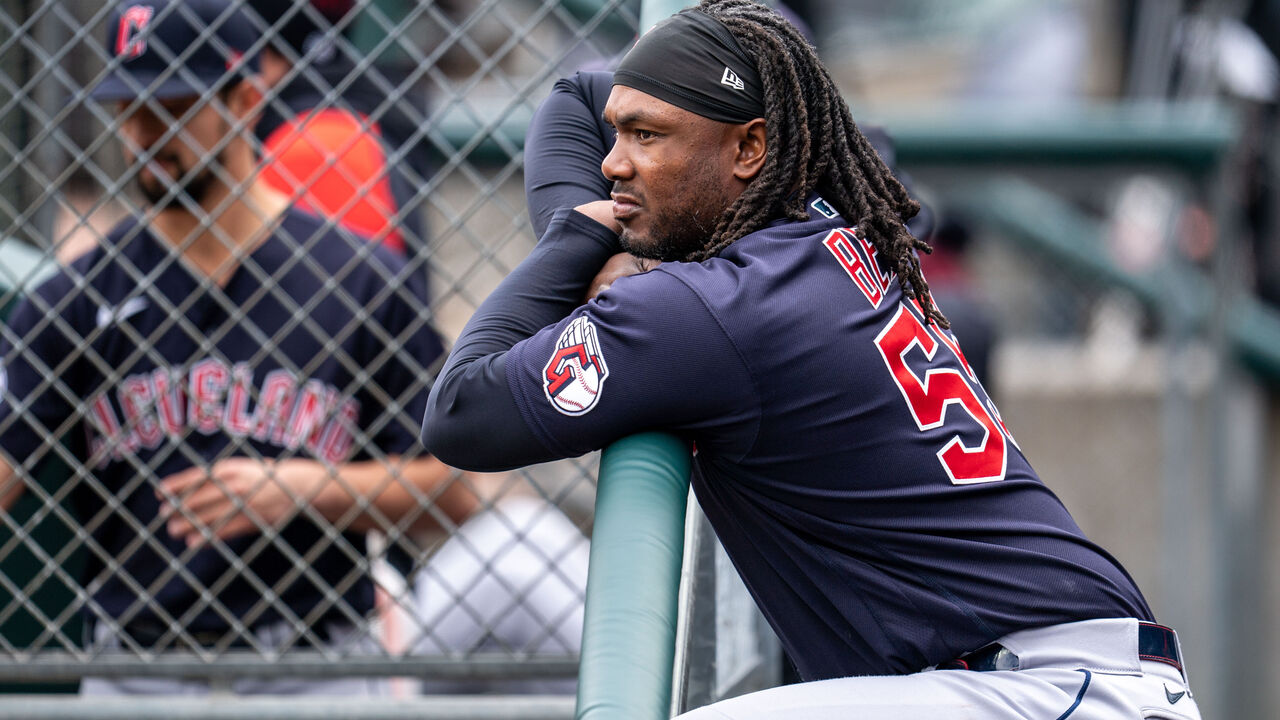 Jaime Crawford / Getty Images Sport / Getty
Which struggling player are you at least a little worried about?​
Josh Bell:
Bell's Silver Slugger-winning 2022 campaign looked like a mirage even before he won the award. Since Aug. 2, Bell has hit just four home runs and driven in 23 runs. Since joining the Guardians on a $33-million deal this winter, he's hitting .228/.333/.405 with two homers and 11 RBIs. He's still taking his walks, but Bell's barrel percentage is in the 61st percentile, while his hard-hit percentage sits in the 65th. That's not what you want from your Silver Slugger DH. Bell will have to turn this around in a hurry because it's looking like he's lost the magic that made him such a valuable hitter over the last few seasons. -
Sharkey-Gotlieb
Masataka Yoshida:
Yoshida's five-year contract with the Red Sox surprised many, including the Japanese star himself. The 29-year-old tore the cover off the ball during Japan's championship performance at the World Baseball Classic. That raised expectations entering the season, but Yoshida has struggled to build on that momentum thus far. He has a 102 wRC+ and is hitting the ball on the ground far too often, with a 60% ground-ball rate. Yoshida is talented enough to figure things out - he did hit a pair of eighth-inning home runs Sunday - but it's fair to wonder if he'll adjust to MLB pitching.
- Goldberg
Alek Manoah:
In his recent outing against the Yankees, he certainly looked like the Manoah who finished as an AL Cy Young finalist last season, and that's a great sign. But recency bias gets you nowhere when three of your previous starts showed a troubling lack of command. Manoah seems to be struggling with his release point, which is causing too many pitches to miss badly. Making things worse is that Manoah, who doesn't get many whiffs anyways, is getting even fewer swings-and-misses. Here's how some early numbers stack up against his performance last year:
| YEAR | ZONE % | 1ST PITCH STRIKE % | SWINGING STRIKE % |
| --- | --- | --- | --- |
| 2022 | 42.7% | 61.7% | 11.2% |
| 2023 | 39.3% | 53.7% | 9.9% |
To sum up, Manoah is throwing fewer pitches in the zone, not getting ahead of hitters early, and not getting swinging strikes as much. It's also worth noting he was the second-slowest qualified starter last year by pace - he averaged a whopping 25.8 seconds between pitches - and the introduction of the pitch clock might be impacting him more than others. Recent resurgences from Jose Berrios and Yusei Kikuchi have afforded Manoah some leeway to work through all of these seemingly fixable issues.
- Bradburn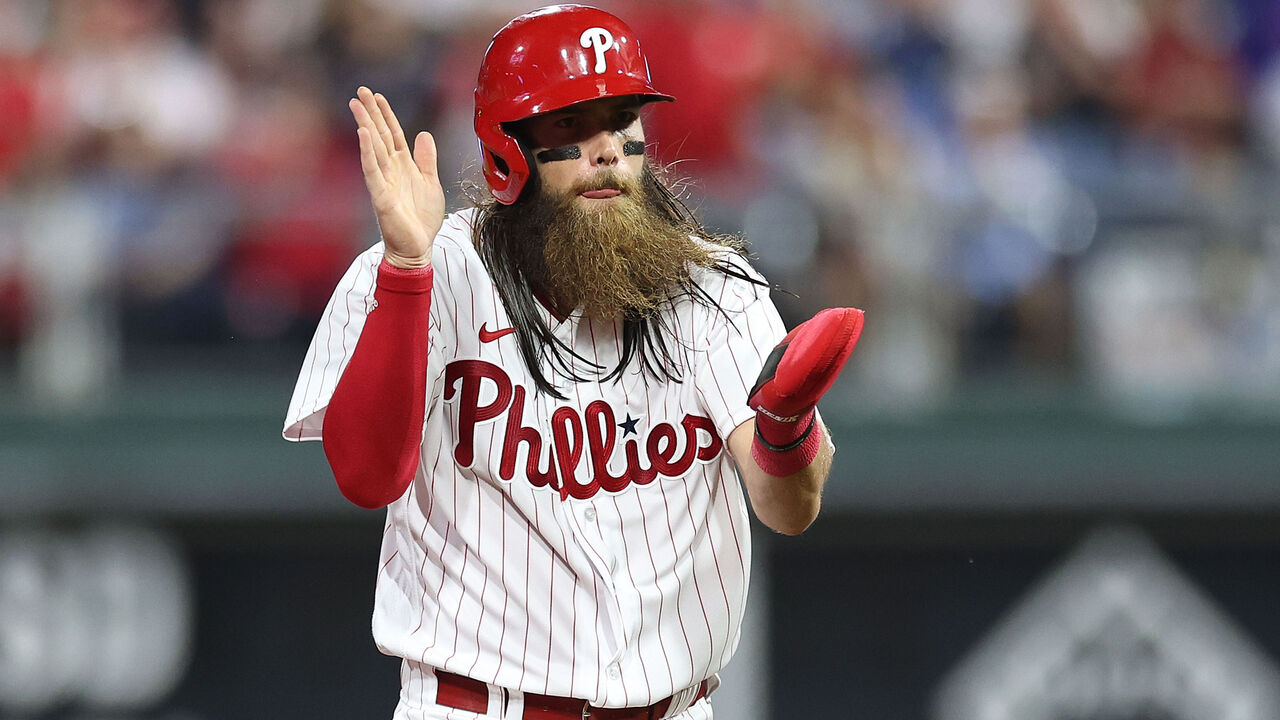 Tim Nwachukwu / Getty Images Sport / Getty
Who's been the most underappreciated player this season?​
Brandon Marsh:
With so many injuries to the lineup, the Phillies needed someone to step up, and Marsh has certainly done that. The 25-year-old seems to have unlocked something, as he ranks top four in every slash-line category while leading the majors in slugging (.758) and OPS (1.213). Marsh is still striking out a ton but has lowered his strikeout rate to 28% - no small feat for someone with a career K rate of 34.1% - while also walking more than he ever has in the majors. His defense in center field also remains solid. It's hard to say where Philadelphia would be right now without Marsh. -
Sharkey-Gotlieb
Brandon Nimmo:
Nimmo doesn't just seem more comfortable in center field this season, he looks like he could threaten for a Gold Glove. We already knew his bat could play and he was an on-base king, but he's taken strides forward in both categories, slugging .500 and walking in 15% of plate appearances. But, most interestingly, after being a so-so defender entering the campaign and looking more like a corner outfielder long term, Nimmo ranks 96th percentile in outs above average. He also ranks 64th percentile in outfield jump. It's never a bad development for a team when a player it retains on an eight-year, $162-million contract gets even better. -
Bradburn
Max Muncy:
Remember him? Muncy has bounced back massively after slashing just .196/.329/.384 and hitting only 21 home runs across a miserable 2022 campaign. He currently leads the majors with 11 homers and sits second in walks, slugging, and OPS. Funnily enough, all of Muncy's extra-base hits on the year have been home runs. Who wants to run hard for doubles and triples anyway? Muncy's striking out at a career-worst 31.4% rate and hasn't been great defensively, but when you're hitting the ball with that much force, you can live with the bad. On a Dodgers team that still boasts so much offensive firepower, it's great to see Muncy leading the charge.
- Wile
Sports gambling forum
www.thegx.ca/forum
copied and pasted this from the web🍻